Velocity Carnosine Emulgel
Velocity increases muscle mobility, performance, and recovery. It also reduces inflammation by promoting oxygenation and blood flow throughout the muscles. These benefits are effective within one hour of application.
One 32oz bottle contains 16-24 applications depending on horse size and coverage. To apply, place a small amount of Velocity in the palm of your hand and rub into the muscles or tendons. For large muscles, use approximately 1-2oz. For smaller muscles and tendons, use approximately ½ oz. Velocity may be used for both acute and chronic treatments.
Carnosine
Function: Serves as the primary buffering agent in skeletal muscle tissue and allows for pH to remain stable as hydrogen ions are created during glycolysis and other metabolic processes.
Water
Function: serves as the base of the aqueous phase of the product.
Glycerine
Function: glycerin is a sugar alcohol and a humectant which serves to prevent the loss of moisture.
Ethoxydiglycol
Function: Ethoxydiglycol is an almost colorless, odorless liquid that is used as a mild solvent to even out the consistency of liquid or gel based products.
Magnesium Sulphate
Function: Magnesium sulphate is an inorganic salt and can be conjugated to many different molecules, including amino acids and small molecules.
PVP
Function: Polyvinylpyrrolidone (PVP) is widely used in topical products emulsion stabilizer as well as a binding agent.
Hydroxypropyl Cellulose
Function: Hydroxypropyl Cellulose is used as a thickener in liquids, gels, and creams.
Phenoxyethanol
Function: Phenoxyethanol is used as a preservative.
Ethylhexylglycerin
Function: Ethylhexylglycerin is used as a weak preservative.
Customer Reviews
11/26/2020
Merlion M.
United States
10/10 will recommend for instantly relaxed horse and for your own intense workout
10/10 will recommend! I've used this on my horse before lunging, and have forgotten to apply when I've been in a terrible hurry. The difference in his ability and willingness to stretch and use his back is amazing. When I apply it to tighter spots, he always instantly releases (licking, chewing, yawning, snorting, farting - you name it, he demonstrates it). How do I know it was Velocity and not my magical hands? As any good owner, I used it on myself after leg day. I knew I needed extra help when I was already feeling the burn half way through the session! So applied it before continuing, and I know where I missed a spot in my application! Velocity absorbed so quickly, and was not greasy after, I was so impressed. Instant recovery, as I was able to wear heels most of the day and not feel sore, and definitely was good to go the next day! Velocity also offers amazing customer care service, and detailed suggestions for further use of their products.
11/11/2020
Chrisie V.
United States
I highly recommend!
I have been using Equine Velocity for a few weeks on my 20 year old Adult Jumper mare on her back legs and back. The stocking up in her back legs is reduced, her back is less sensitive and her lead changes are noticeably smoother. I will be using on my other horses as I see the need. I highly recommend!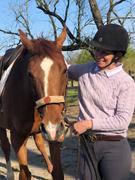 11/11/2020
Dee K.
Ireland
Velocity works!
I started with Equine Velocity to try bring down some stubborn swelling after lymphangitis. It is now an absolute staple of our daily routine!! It worked wonders on my boys legs, but not only that, I started to used it on his back (he has kissing spines) and during hot towel rub downs. He feels amazing and is working better than he ever has before!! I absolutely wouldn't be without it now! Highly recommend!!
11/09/2020
Tessa K.
United States
Best product ever
I have always used liniments on my horse after jumping or a good flat workout but I wanted something more to help him as he gets older and especially after the injuries he has had. When I discovered Equine Velocity I got so excited! I was so interested to see who was using it and how it worked! I bought my first bottle and love what it has been doing! I feel like Kodak is able to recover faster and feel good all the time now! I also love how it doesn't make your hands tingly like some liniments and I love that it's clear and drys super fast!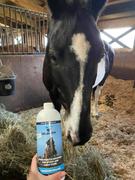 10/26/2020
Erin H.
United States
This stuff works!
I purchased a bottle in hopes of keeping my mare's back looser between bodywork visits. She tends to get spasms right over her lumbar region as a result of spinal crowding and stifle weakness. It has really worked wonders, with her back flubbery and loose when used before and after a ride. I think it's pretty amazing stuff, and if your horse suffers from similar problems, it is most def worth a try. Thanks Velocity!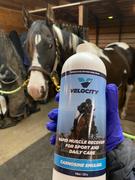 Leg Application for an overnight period